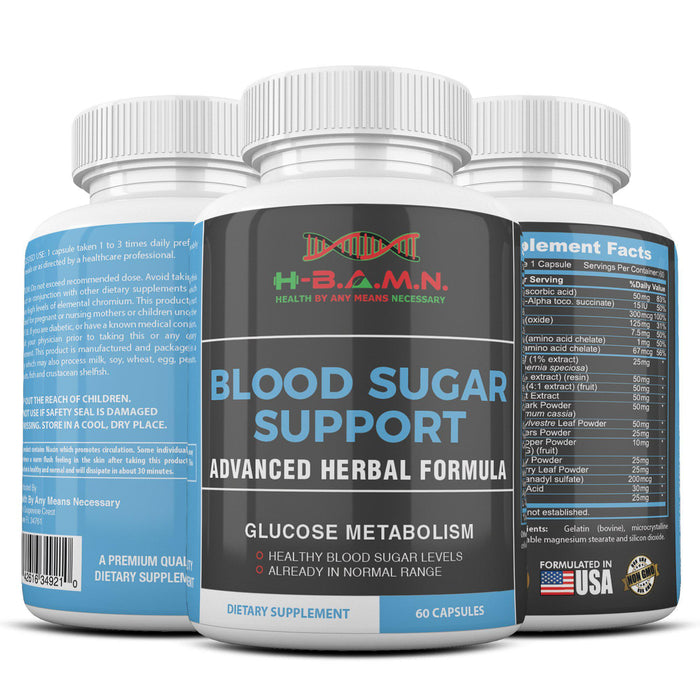 *New Years* [ 6 BOTTLES ] Advanced Herbal Blood sugar support- All natural Blood sugar lowering supplement
*6 BOTTLES* 6 Month supply
HERBAL BLOOD SUGAR SUPPORT: Our Blood Sugar Support Supplement is made with high-quality herbs and vitamins. There are well over 10 ingredients in our Blood Sugar Support Capsules including Cinnamon, Vanadium, Chromium, Biotin, and Guggul. Many of the herbs in our formula have been used traditionally by herbalists for many years.

SUPPORTS HEALTHY BLOOD SUGAR LEVELS: Our Blood Sugar Support Supplement helps support healthy blood sugar levels already within the normal range.* We use high-quality Cinnamon, Vanadium, Bitter Melon in our Blood Sugar Support Supplement.

INCLUDES POWERFUL HERBS AND ANTIOXIDANTS: Our high-quality Blood Sugar Support supplement includes Chromium, Bitter Melon, Guggul, Cinnamon, Alpha Lipoic Acid, Vanadium, White Mulberry, Banaba Leaf, and Gymnema Sylvestre Leaf, Guggul, Licorice Root, L-Taurine, Yarrow Flower and MORE! The capsules are small and easy to swallow.

Commitment to Quality: Our Blood Sugar Support Supplement is manufactured in an FDA registered facility that adheres to Good Manufacturing Practices (GMP). H-BAMN Products is committed to maintaining high-quality supplements.

60 Day Satisfaction Guarantee: We offer a no questions asked unconditional 100% money back guarantee because we are very confident you will love our supplements and we want to give you enough time to experience the results. If you're not satisfied for any reason with your most recent purchase, just email us at Support@HBAMN.com and we will be happy to help.