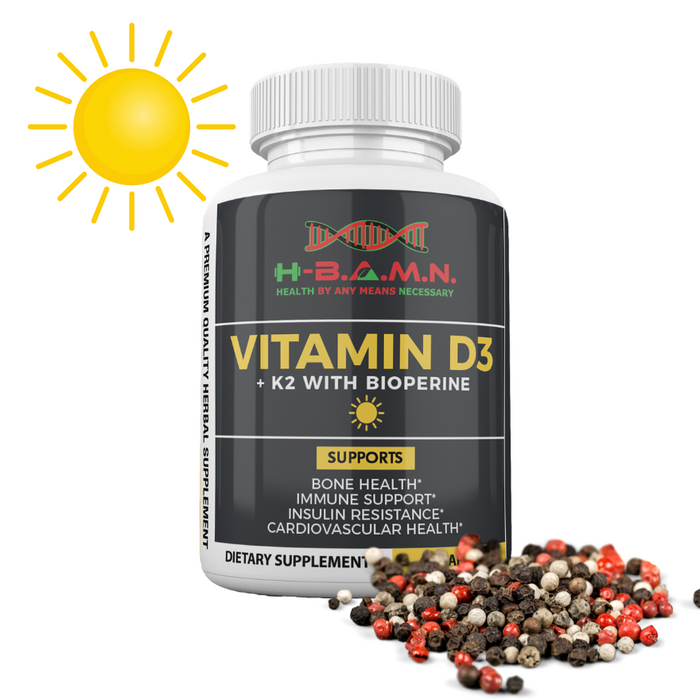 [ Buy Two Get One FREE ] Vitamin-D3 & K2 5,000 IU with Bioperine
Benefits

H-BAMN's New Vitamin-D3/K2 with Bioperine for optimal absorption supplies you with 60 capsules with 5,000 IU of D3 with the following benefits:
Improved Blood Pressure & Cardiovascular Health

Decreased insulin resistance

Healthy Insulin Levels & Increased Glucose Tolerance

Improves Immune System Functioning

Supports Healthy Lung & Nervous system Functioning

Mood, Sleep and Stress Support

Paired with Bioperine, which comes from black pepper, for maximum absorption.
Directions
Directions:
Take one capsule with the first meal of the day.
Commitment to Quality: Our Vitamin D3/K2 Supplement is manufactured in an FDA registered facility that adheres to Good Manufacturing Practices (GMP). H-BAMN Products is committed to maintaining high-quality supplements.
60 Day Satisfaction Guarantee: Here at Health By Any Means Necessary we offer no questions asked 100% money-back guarantee because we are very confident you will love our supplements and we want to give you enough time to experience the results. If you're not satisfied for any reason with your most recent purchase, just email us at Support@HBAMN.com and we will be happy to help.