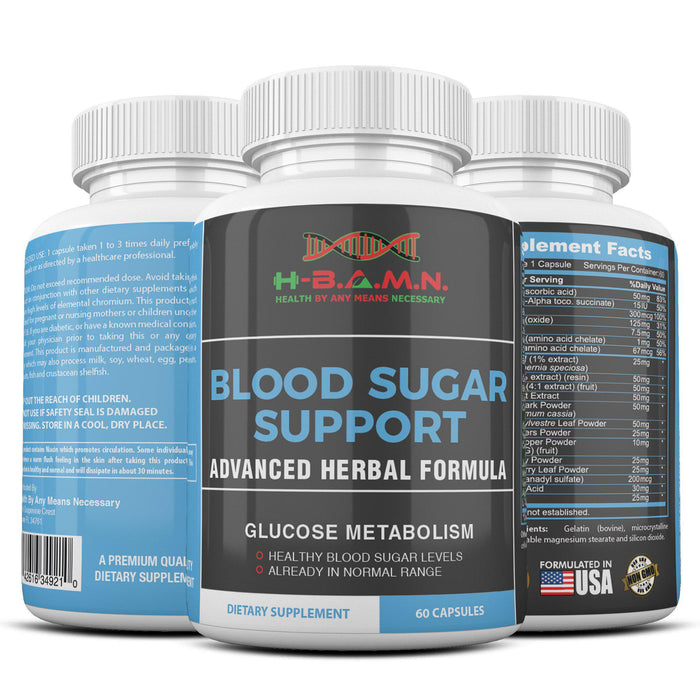 *New Years* [ 3 BOTTLES ] Advanced Herbal Blood sugar support- All natural Blood sugar lowering supplement
*3 BOTTLES* 3 months supply
Benefits
Blood Sugar Herbal Support is a 100% natural dietary supplement carefully designed to improve insulin sensitivity and regulate blood sugar levels with the following benefits:
Increased glucose tolerance 

Decreased insulin resistance

Better overall well-being

Balanced Metabolism

Reduced Hunger

Improved cardiovascular health
Description
Blood Sugar Herbal Support has a combination of top-quality extracts of 10 natural ingredients including:
Banaba leaf
Cinnamon 
Gymnema Sylvestre
Bitter Melon
And more!
Blood Sugar Herbal Support is fortified with effective amounts of antioxidants, vitamins, organic elements, and amino acids. It is a natural blend that works without the adverse side effects that chemically prepared drugs entail. These herbs and spices individually provide numerous health benefits, but this specific mix was specially developed to support healthy blood sugar levels and improve insulin sensitivity*.
Ingredients
Banaba leaf
Banaba leaf is anti-inflammatory and an antioxidant. It can increase glucose tolerance and thus, lower blood sugar levels. On top of that, it also promotes weight loss.
Guggul
Guggul has strong anti-inflammatory properties. It can improve the natural production of insulin by protecting the beta cells of the pancreas from damage. It also lowers cholesterol levels. This amazing product of nature is also antimicrobial and anti-aging properties. 
  
Bitter Melon
Bitter Melon has long been as an herbal treatment of many ailments, including diabetes. It contains three substances vital to diabetes - charantine and vicine which both produce blood sugar-lowering effects and polypeptide-p which is an insulin-like compound.
Licorice Root Extract
Licorice root is rich in amorfrutins. This substance reduces blood sugar levels and inflammation. Studies also showed that amorfrutins could prevent the development of a fatty liver.
Cinnamon Bark Powder
Cinnamon has an insulin-mimicking effect which allows glucose entry into cells and at the same time, it can increase insulin sensitivity.
Gymnema Sylvestre Leaf Powder 
This plant is rich in gymnemic acid which works by making sugar taste less appealing thereby lessening sugar cravings and consumption. It also has anti-diabetic properties and has been termed "gumar," which means "destroyer of sugar" in Hindi.

Yarrow Flower Powder 
Yarrow flower contains inulin which produces fructose as a source of energy instead of glucose, and it also promotes glucose consumption by cells. Inulin is also a good regulator of bowel elimination because it acts like fiber. Yarrow flower is also rich in flavonoids which stabilize Beta cells in the pancreas.

Cayenne Pepper Powder 
Studies suggest that spices like Cayenne pepper stimulate glucose absorption from the small intestine. Cayenne may improve the insulin sensitivity so that insulin will be needed for cells to take up glucose. It also has anti-inflammatory effects in the body.

Juniper Berry Powder 
Juniper berries are considered to be the "Natural Insulin" as it contains plant insulin that works just like the insulin produced in the body. It can relieve symptoms of hyperglycemia and enhance glucose uptake. This natural healer also promotes weight loss and protects against cardiovascular disease.

White Mulberry Leaf Powder 
The powdered leaves of white mulberry have been shown to reduce blood sugar levels by improving glucose tolerance and decreasing insulin concentrations.

Vanadium (vanadyl sulfate)
Some studies have suggested that vanadium may act like insulin, or help to increase the effects of insulin.

Alpha Lipoic Acid
Researches showed that alpha-lipoic acid promoted glycemic control, improved insulin sensitivity and decreased oxidative stress and neuropathy in diabetic patients.

L-Taurine
Taurine has been proven to be significant in controlling diabetes by reducing blood glucose and restoring insulin sensitivity.
Directions
Directions:
Take one capsule with the first meal of the day, followed by one capsule with the last meal of the day. If you are only consuming one meal a day, then take two capsules before your one meal.
FAQ
1.) How do I take Blood Sugar Herbal support?
Take 1 capsule with the first meal of the day, followed by one capsule with the last meal of the day. If you are only consuming one meal a day, then take two capsules before your one meal.
2.) Is Blood Sugar Herbal Support only for Type 2 Diabetics?
No, Blood Sugar support is for anyone who is diabetic, Pre-Diabetic, insulin resistant or wanting to improve hunger cravings and lose weight. 
3.) Do I need to cycle Blood Sugar Herbal Support?
No, the formula will remain effective in your body, due to the fact that it is providing nutrients to your body to promote optimal functioning.
4.) Can I take it along with any current medication I am taking?
While each of our products here at H-BAMN are all-natural, we recommend speaking with your physician before starting, due to the fact that the combo of both our Blood Sugar Support formula and medications may cause blood sugar to go to low.
Due to this fact, you will most likely need to eventually have your health care provider lower the dosage of your prescription drug. Having prescription drugs decreased will reduce the negative side-effects that you may have been experiencing.
You should never stop or change the dosage of any of your medications until you have consulted with your health care provider. If you have any concerns, you should consult your healthcare provider before taking any supplement
Quality
 
Commitment to Quality: Our Blood Sugar Support Supplement is manufactured in an FDA registered facility that adheres to Good Manufacturing Practices (GMP). H-BAMN Products is committed to maintaining high-quality supplements.

60 Day Satisfaction Guarantee: Here at Health By Any Means Necessary we offer a no questions asked 100% money back guarantee because we are very confident you will love our supplements and we want to give you enough time to experience the results. If you're not satisfied for any reason with your most recent purchase, just email us at Support@HBAMN.com and we will be happy to help.